Benamaurel
N? of inhabitants: 2.431¸ 22km to Baza.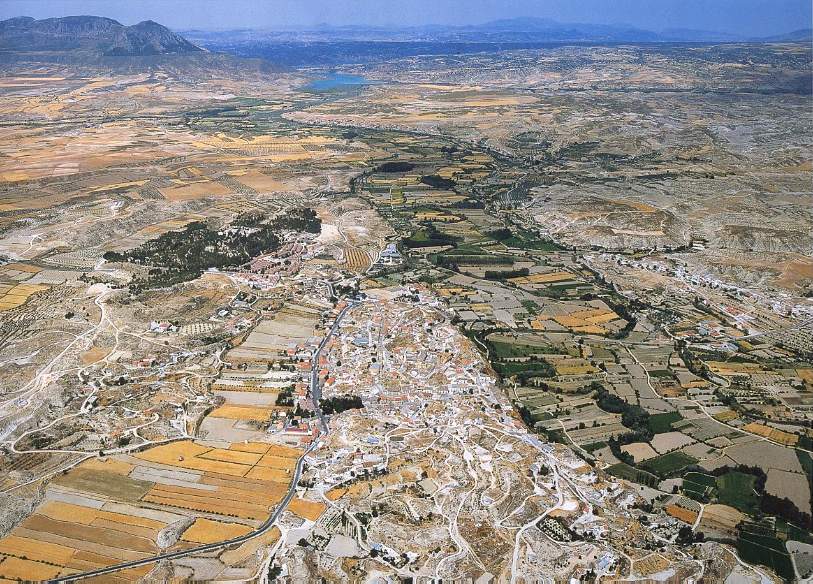 Situated in a valley¸ North of Baza and the province of Granada near Lake Negratin and the Sierra Castril¸ the Benamaurel area has a large number of troglodyte dwellings¸ which may have been inhabited in the Arab Andalusian period.

With nearly 2¸500 inhabitants¸ the village patron saint¸ the Virgen de la Cabeza¸ is a cause of "conflict" on the Moors and Christians Day.

The church is dedicated to the Assumption and there is a place called the casa del t?o Tinajas (Uncle Tinajas´ house)¸ which is a troglodyte dwelling apparently containing an old Arab dungeon inside.
The name of this village may well come from the Arab ben Mawra´l¸ meaning "Maurel´s house or family"¸ even though there are other theories about its origin. It was an important agricultural enclave under Muslim rule. After the general revolt of the Granada Moors against King Phillip ll in 1568¸ the repression against the revolters was especially cruel in this AREA. After the Moors were expelled in 1609 these lands were left almost uninhabited.
Other towns in the region
Castill?jar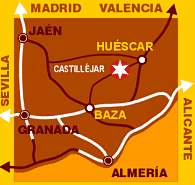 N? of inhabitants: 2.114¸ 35 km to Baza
On the banks of the river Guardal lies Castill?jar¸ in a land rich in archaeological remains of Prehistoric times and Iberian culture¸ such as: the Iberian necropolis of Castro de la Balunca¸ from the 6th and 7th centuries BC¸ and the interesting remains of the Prehistoric habitat found in the caves of the Guardal.
These lands have witnessed the fights for survival of Prehistoric civilizations. From these period¸ interesting remains have been found in the caves and terraces nearby the river Guardal. In Castro de la Balunca there are remains of settlements and graveyards of bastetanas (Pre-Roman) tribes.
It was conquered by the Catholic Monarchs in 1488 and inhabited by people from the Basque Country¸ Navarra and Arag?n. It belonged to the Casa de Alba.


Cuisine
Migas (dish made of bread¸ garlic¸ oil and bacon). Gurupina (dish made of cod with potatoes). Gachas (salty porridge). Snails in paprika. Lamb stew.

Sweets: Fried dessert rings. Crespillos.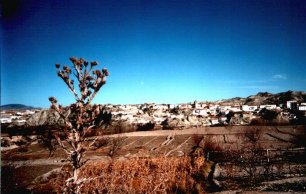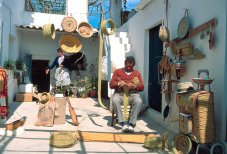 Videos